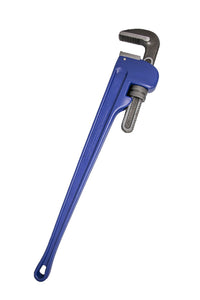 Aluminum Pipe Wrench - 36"
Regular price $330.00 Sale
Exactly what you need for Installing your Treehouse Attachment Bolts (TABs)! This pipe wrench can be used to install ALL of our different TABs.
Aluminum Alloy Pipe Wrench
Profitter Brand
36" Long
Aluminum Alloy / Drop Forged Body.
Pipe size on hook jaw aids in quick adjustment to proper pipe size.
Hardened forged steel jaw provides maximum strength at stress point.
Deep milled teeth hardened to stay sharp.
Balanced for proper weight distribution.
I-Beam handle flared handle end for firm, comfortable grip.
Heavy duty spring maintains preset jaw adjustment; aids in positive pipe engagement.
Large knurl and power threads provide fast positive jaw adjustment.