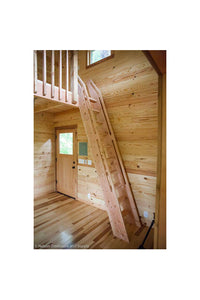 Signature Ships Ladder Plan - Digital Download
Regular price $35.00 $28.00 Sale
An instantaneous DIGITAL DOWNLOAD of the Signature Ships Ladder Plan!
The Nelson Treehouse Signature Ships Ladder is the quintessential treehouse accessory. This two-page plan set comes with TWO different ladder scenarios: one with side holds and another with step rails. 
Comes with step-by-step directions and basic material & tool list.
Printing Instructions:
Be sure to print at 100% scale
Use 11" x 17" paper (Tabloid)