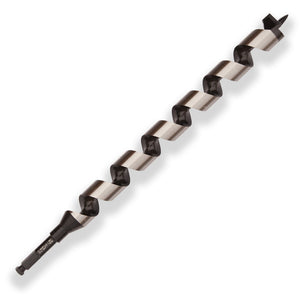 1 3/8" x 18" Auger Bit
Regular price $ 79.95 Sale
This auger bit is used to create the pilot hole for the Heavy Limb TAB. Once the pilot hole has been drilled out with the auger bit, an HL TAB Bit Combo (sold separately) must be used to create space for the "boss" section of the HL TAB. The stem of the HL TAB is then tightened into the hole from the 1-3/8" auger bit.
Fast cutting of clean holes in wood
Cuts nails and staples
Precision-ground for long life
Hardened and tempered for durability
In order to participate in the rental program, you must clarify in an order note or email before shipment that you would like a rental bit or auger. Then if they are returned, undamaged within 30 days, you receive a 60% refund.